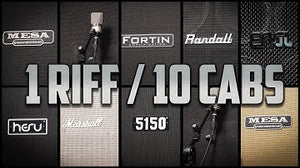 1 RIFF / 10 CABINETS - METAL RIFF SHOOTOUT
1 RIFF /10 CABINETS with different speakers. NOTES after making this test. It becomes pretty clear that with the majority of my speakers being Celestion Vintage 30, how different they can sound from each other, even though they are identical. I would say obviously the cabinet size and build makes a difference, but the differences between two identical speakers can be big. Things like playtime per speaker per hour makes a big difference too. Signal Path: Guitar Solar AB1.7C / Engl Savage 60 / CAB / Neumann TLM102 Lowpass filter for post processing. To make a comparison as fair as possible, the microphone is always pointed straight into the speaker. This is not how I usually mic an amplifier but for the sake of comparing all of these, this is the fairest way. Hence the lowpass filter to remove the absolute high end of the amplified tone. Request what you would want to see in an upcoming video when it comes to a test like this. 1 RIFF 10 Overdrives maybe? 1 RIFF / 10 GUITARS etc... Song being played is Demon(etized) :
https://open.spotify.com/track/2rMhUK...
---