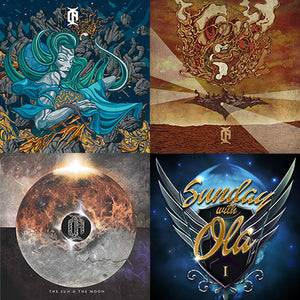 OLA ENGLUND
In 2019, Englund released his first solo album "Master of the Universe," an album that drew inspiration from classic heavy metal and sci-fi themes.
In 2021, Englund followed up with "Starzinger," a concept album that tells the story of a space adventurer on a mission to save the galaxy. The album blended elements of metal, prog rock, and electronic music, and once again showcased Englund's guitar skills and knack for crafting memorable melodies.
The album featured guest appearances from prominent metal musicians such as Jeff Loomis and Mike Burns, and was praised for its dynamic guitar work, powerful vocals, and engaging songwriting.
THE HAUNTED
The Haunted is a Swedish metal band formed in 1996 by members of two other well-known bands, At the Gates and Seance.
Their music is known for its aggressive thrash metal sound, with elements of death metal and hardcore punk.
Over the years, The Haunted has released several albums, including their self-titled debut in 1998, which received critical acclaim and helped establish the band as a major player in the metal scene.
Other notable albums include "Made Me Do It" (2000), "One Kill Wonder" (2003), and "Exit Wounds" (2014).
In 2014, The Haunted underwent a lineup change when guitarist Ola Englund joined the band, replacing founding member Anders Björler. Since joining The Haunted, Englund has played on two albums, "Exit Wounds"(2014) and "Strength in Numbers" (2017).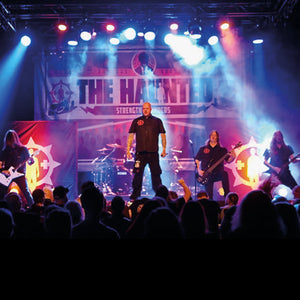 FEARED
Feared is a Swedish metal band formed in 2007 by guitarist Ola Englund and vocalist Mario Ramos. The band is known for their heavy, aggressive sound and technical proficiency, with influences ranging from death metal to thrash to groove metal.
Ola Englund is the driving force behind Feared, serving as the band's primary songwriter, guitarist, and producer.
Englund's involvement with Feared began as a side project, but the band quickly gained a following with their first album, "Rejects" (2011). Since then, Feared has released a steady stream of albums, including "Furor Incarnatus" (2013), "Synder" (2015), and "Svart" (2017), each showcasing the band's evolving sound and technical prowess.
THE CHUG PROJECT
The Chug Project is the outcome of all the Sunday With Ola Riffs that comes from Olas Sunday shows.
The albums are fitted with different
riffs arranged into full songs. It's what the audience has been asking for.
A celebration of the RIFF.